ATT&T – what it means for us …..
---
Now that the dust is settling on the AT&T and T-Mobile deal, let us get to some straight talk. It is possibly the biggest deal that I have seen in Telecom happen in the last few years. The one that comes close is the Cingular – AT&T deal, a few years back but this deal means different things for different people. Is it good for customers, investors, financial intuitions behind this deal or not to forget the employees of T-Mobile? The sign – For Sale was written all over T-Mobile USA since the last couple of years when the growth halted and the churn was eating into the customer base, but the market forces had to improve before such a deal could take place. The biggest impact that is for the workforce that exists in Seattle for wireless broadband, that area has been a hotbed for wireless since Craig Macaw started the original Macaw cellular (aquired byAT&T wireless). And the failure of Clearwire to make an impact on the market with its lead on WiMAX based broadband solutions, as a frontrunner in 4G solutions.
What forced this sale? Well people may say that iPhone was the cause, possible as one of the several reasons but I would say that in a data-centric world, Voice as a paradigm for wireless growth had declined and T-Mobile was slow in adapting to this change. It was still the cheapest nationwide voice plan operator with data thrown in as an afterthought. This was one of the root causes for a network that brought some many firsts to the market – Blackberry devices, Android devices, UMA etc. In a marketplace where big fish eats small fish there is no room for second places, for the record T-Mobile is the fourth largest carrier in the continental US.
Customers and Rateplans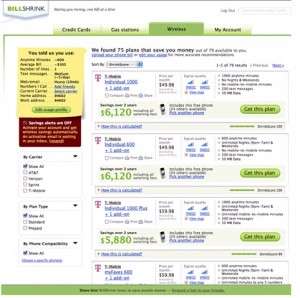 What does this change mean for existing customers, will they be able to still have their rate plans unchanged in this scenario? Let us look back at history and see what had happened in the past, AT&T customers were allowed to keep their plan as long as they did not make any changes to their handsets or their contracts. So that means that the time when the acquisition is finalized, the customer contracts will be grandfathered and honored. But in a longer term the loser will be the customer due to lesser competition among national operators, and T-Mobile is the best value for money per Billshrink.
 The deal will also give T-Mobile users access to a planned 4G wireless network using LTE, or Long Term Evolution technology. T-Mobile has HSPA+, which delivers 4G-like speeds, but it's not a real 4G technology and the company hasn't announced any plans for network expansion beyond HSPA+. As for customers, while the move leaves them with fewer choices, current AT&T and T-Mobile customers may experience improved service quality.
Technology and Wireless Broadband
AT&T and T-mobile today use the same family of technology – 3GPP based GSM, UMTS leading to LTE. Infact, this merger will make the only Uber-operator within US that come from GSM family. So how will the device ecosystem evolve around this? What T-Mobile had started out with the AWS spectrum, AT&T's holdings will complement it, by adding more spectrum in those bands along with the prime 700 MHz spectrum. T-Mobile uses HSPA+ for its so-called 4G speeds, which is better than the pre-4G LTE, or that the operators are deploying now.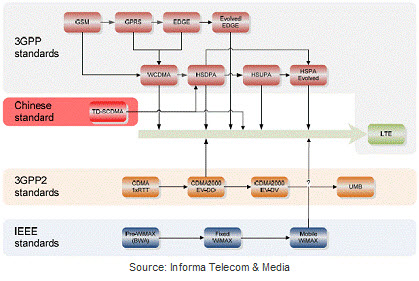 So would that be complementary to AT&T's standards, it is be a perfect match. As has been proven by iPhone 4, this family of technology is faster than CDMA based 3GPP2 standards. What T-Mobile has done is optimized the HSPA+ technology to be able to provide 4G-like speeds. They are the only operator in the US to rollout HSPA+ aggressively along with FTC (fiber to cell-site). What T-Mobile has done is deployed dual-carrier HSPA operation. This approach coordinates the operation of HSPA on two adjacent 5 MHz carriers so that data transmissions can achieve higher throughput rates, as shown below. In this configuration, it is possible to achieve a doubling of the 21 Mbps maximum rate available on each channel to 42 Mbps with a less expensive infrastructure upgrade.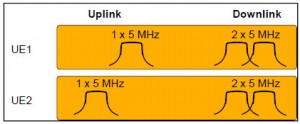 Wireless broadband is still in it nascent stages, as the hunger for data will grow and evolve many-fold, and it remains to be seen how the impact of tablet devices be on operators, here is graphic from Chetan Sharma a renowned Industry analyst.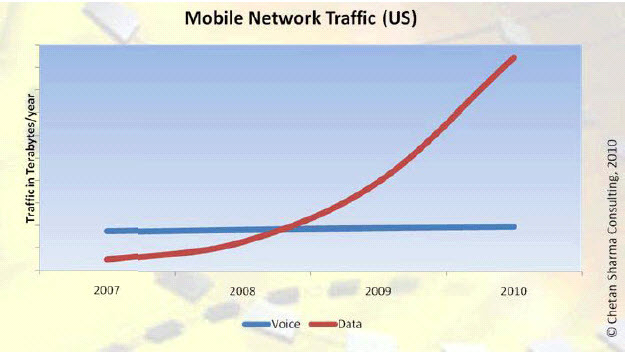 Reactions from Competitors & Infrastructure Vendors
US telecom business has nearly reached its capacity and the market is nearly saturated.  Is it even possible to bring MORE wireless coverage to the United States?  DT doesn't think so, so they're handing off T-Mobile to AT&T and shifting their focus to building clouds in Europe.
Speaking at the CTIA 2011 event in Orlando, Sprint CEO Dan Hesse reiterated his company's concerns that the deal would concentrate too much power in the hands of Verizon and AT&T. "I do have concerns that it would stifle innovation and too much power would be in the hands of just two," he said.
Sharing the same stage, Verizon Wireless CEO Dan Mead said that the company is clearly watching things, but noted that his company was built through acquisitions."We have a tremendous amount of competition in the industry," he said, adding that the industry will go through continued change, such as the AT&T purchase. "I'm not concerned about it."
Mead said that his company had not considered a purchase of T-Mobile ahead of the deal and also told Reuters that his company isn't pondering acquiring rival Sprint. As for the AT&T-T-Mobile deal, Hesse noted that it doesn't really matter what he thinks, since it will be regulators at the Department of Justice, FCC and elsewhere that get to decide. FCC Chairman Julius Genakowski, who spoke before the CEO panel, acknowledged the elephant in the room, but declined comment on the deal.
AT&T's Ralph De La Vega didn't say too much about the deal, other than to repeat the company's case that the deal is in the public interest as it helps alleviate the looming spectrum crunch and will expand high-speed LTE service to more of the U.S.
Who gains from this transaction?
Since both companies run similar technologies, both AT&T and T-Mobile will benefit once the deal closes and networks are integrated. According to Ralph de la Vega, AT&T Mobility CEO, there are ways to show how beneficial this is for both companies.
1) The combined entity will enhance the customer voice and data experience with world class network experience with HSPA+ and LTE capabilities.  Paired with a "best in class" portfolio of smartphones and connected devices, AT&T believes this will be a great deal for customers.  As an extra bonus, AT&T believes they offer a superior value with a 90+ million customer m2m network along with rollover.
2) This allows both companies to grow the average revenue per unit thereby making the deal financially viable for the new combined AT&T to thrive.
3) Improving churn will require significant focus on the T-Mobile front as AT&T hopes that with the nation's largest mobile 2 mobile scope, they can entice customers to stay.  AT&T is convinced with their experience from the Cingular merger they are prepared for the challenge in immediately working to reduce customer churn.
4) Expanding the margins of the companies with similar synergies.
5) AT&T combined with T-mobile can seize opportunities such as providing LTE service to 46 million more people including rural areas that AT&T otherwise wouldn't have been able to provide.
The purchase includes a cash payout of $25 billion, with the remainder to be covered with AT&T common stock. AT&T can hike the cash part of the purchase by up to $4.2 billion, the companies' statement said.
Terms of the deal also give Deutsche Telekom a roughly 8% stake in AT&T, and a Deutsche Telekom representative will join AT&T's board. But with this being said if the deal fails to get an approval from the FCC/FTC/DoJ T-mobile still gets three billion in cash injection along with spectrum assets. This transaction brings forth the halcyon days of telecom acquisitions, which is a good sign for the Telecom Industry as a whole.
*** All opinions expressed in this article are my own thoughts.