Defining Mobile User Experience – QOE & QOS
---
I am not an early adopter of technology, though I am one of the gears that drive the engine of change for wireless technology. But I read most of my news, books, email, Youtube – 80% of the time today on my Cellphone or iPad (love Flipboard & Zite!) which runs on my wireless carrier.  Can I cut the cables and just go wireless – are we there yet? My answer is not yet, but maybe in three years from now with the momentum from LTE and the device ecosystem will make the telecommunications ecosystem capable of wireless speeds of 1Gbps and more.
Wireless Industry measures Churn an important KPI(key performance indicator) –  that defines customer satisfaction and  Operator performance. One of the biggest causes of churn is user experience or quality of user experience (QoE) and is used to describe the perception of end-users on how usable the services are. QoS (Quality of Service) on the other hand, describes the ability of the network to provide a service with an assured service level. In order to provide the best QoE to users in a cost-effective, competitive and efficient manner, network and service providers must manage QoS and services in proper and appropriate ways.
QoS and QoE are so interdependent that they have to be studied and managed with a common understanding, from planning to implementation and engineering (optimization). In short, the aim of the network and services should be to achieve the maximum user rating (QoE), while network quality (QoS) is the main building block for reaching that goal effectively. QoE, however, is not just limited to the technical performance of the network; there are also non-technical aspects, which influence the overall user perception to a great deal.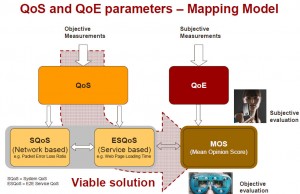 QoS is defined as the ability of the network to provide a service at an assured service level. QoS encompasses all functions, mechanisms and procedures in the cellular network and terminal that ensure the provision of the negotiated service quality between the user equipment (UE) and the core network (CN).
QoE is how a user perceives the usability of a service when in use – how satisfied he or she is with a service in terms of, for example, usability, accessibility, retainability and integrity of the service. Service integrity concerns throughput, delay, delay variation (or jitter) and data loss during user data transmission; service accessibility relates to unavailability, security (authentication, authorization and accounting), activation, access, coverage, blocking, and setup time of the related bearer service; service retainability, in general, characterizes connection losses.
The term 'QoE' refers to the perception of the user about the quality of a particular service or network. It is expressed in human feelings like 'good', 'excellent', 'poor', etc. On the other hand, QoS is intrinsically a technical concept. It is measured, expressed and understood in terms of networks and network elements, which usually has little meaning to a user. Although a better network QoS in many cases will result in better QoE, fulfilling all the traffic QoS parameters will not guarantee a satisfied user. An excellent throughput in one part of a network might not help if there is no coverage a short distance away. As far as measures are concerned, these statistics tell an operator very little about the level of customer satisfaction. Flawless transmission of garbled packets does not make for happy users. So, the inference that QoE is improved because QoS mechanisms are used to reduce jitter or average packet delivery delay may not be accurate in all circumstances. What is important is good user experience or QoE, and the goal of QoS should be to deliver a high QoE.
Delivering high QoE depends on gaining an understanding of the factors contributing to the user's perception of the target services, and applying that knowledge to define the operating requirements. This top-down approach reduces development costs and the risks of user rejection and complaint, by ensuring that the device or system will meet user requirements.
QoE and QoS management can be classified in four interdependent categories: network planning, QoS provisioning, QoE and QoS monitoring, and optimization.
Network planning
The planning process includes network dimensioning and detailed network planning. Network dimensioning (or initial planning) provides an estimate of the required number of radio, transmission and core network elements and the capacity of related interfaces.
The calculations thereof are based on the operator's requirements for coverage, capacity and QoS. In detailed network planning, capacity and coverage are analyzed for each relevant part of the network and interfaces between the entities in communication. This requires real traffic estimates and a network topology for each analyzed area, the utilization of accurate models for signal and user data transmission, and the actual network element's characteristics, functionalities and parameters.
QoS provisioning
QoS provisioning is a process that deploys QoS in networks and mobile terminals. The process translates planning results into mechanisms and parameters understandable by network elements and mobile terminals and it further configures them on equipment or devices. QoS provisioning can be classified in three categories: radio, core and transport QoS provisioning that configures the QoS mechanisms inside the network; service QoS provisioning that maps services into QoS profiles (set of bearer service attributes); and terminal QoS provisioning that provides service application specific QoS information to terminals.
QoE and QoS monitoring
With the growth of mobile services, it has become very important for an operator to measure the QoS and QoE of its network accurately and improve it further in the most effective and cost-efficient way to achieve customer loyalty and maintain competitive edge. A poor QoE will result in unsatisfied customers, leading to a poor market perception and, ultimately, brand dilution. Although QoE is very subjective in nature, it is very important that a strategy is devised to measure it as realistically as possible. The ability to measure QoE will give the operator some sense of the contribution of the network's performance to the overall level of customer satisfaction in terms of reliability, availability, scalability, speed, accuracy and efficiency.
Together, these elements define QoE and competitive advantage across today's packet based communications networks. The experience is expressed in human terminology rather than metrics. An experience can be excellent, very good, good, fair or poor. Two practical approaches to measuring QoE are the following:
Service level approach using statistical samples of a population of terminals.
Network management system (NMS) approach using QoS parameters.
The first relies on a statistical sample of overall network users to measure the QoE for all the users in the network. This process involves:
Determining the weighting of key applications.
Identifying and weighting QoE key performance indicators (KPIs).
Devising a proper statistical sample (geographic areas, traffic mix, time of day, etc.) and taking KPI measurements accordingly.
Utilizing mobile agents in the handsets to make the results more accurate.
Giving an overall QoE score (index) from KPI values for each separate service and a service mix.
The second is a methodology whereby hard QoS performance metrics from various parts of the network are mapped onto user-perceptible QoE performance targets. These QoS measurements are made using an NMS, collecting KPI figures from the network elements and comparing them with the target levels. The process involves:
Identifying the relationship between QoS KPIs and their effect on QoE.
Measuring QoS KPIs in the network.
Rating users' QoE through measured QoS KPIs using some mapping rules.
Optimization
Cellular network optimization can be seen as a process to improve the overall network quality as experienced by the mobile subscribers and to ensure that the network resources are efficiently utilized. This includes performance measurements, analysis of measurement results and updates of the network configuration and parameters. The optimization process can be initiated because of several reasons, the most typical are:
New technologies, elements or features of particular network elements are taken into use.
External edge conditions have changed.
Detection of decreased QoS performance in a particular network area.
As a part of daily network operation process.
QOS Benefits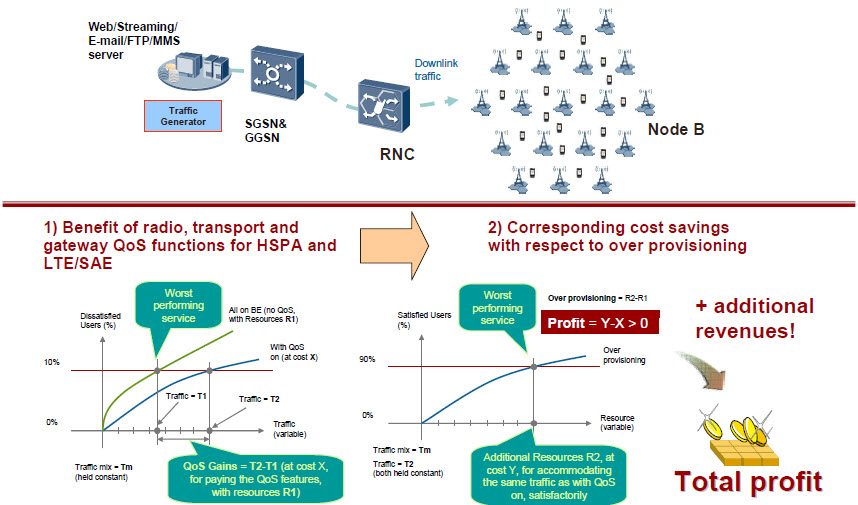 QOS Standardization
ETSI defined the GSM in the late 1980s and 1990s. As part of this work, the GPRS system was first defined in the R97. GPRS has been evolving ever since, and became in the late 1990s part of the 3GPP standardization project along with other GSM specifications. 3GPP was founded by standardization organizations from Europe (ETSI), Japan (Association of Radio Industries and Businesses, ARIB; and Telecommunication Technology Committee, TTC), South Korea (Telecommunications Technology Association, TTA), the USA (Alliance for Telecommunications Industry Solutions, ATIS) and China (China Communications Standards Association, CCSA). Individual companies can be members of 3GPP through these regional organization partners, and most members are telephone operators and equipment manufacturers.
ETSI TISPAN is the ETSI technical committee for fixed networks and for migration from switched circuit networks to packet-based networks with an architecture that can serve in both. TISPAN is responsible for QoS studies in NGN networks. The following TISPAN Working Groups address QoS:
TISPAN WG1 – Cooperation with the ITU-T SG12 (QoS aspects)
TISPAN WG3 – For QoS level provisioning and related control protocols
TISPAN WG5 – Study and define QoS aspects in the customer network.
Also read QOS on 4G networks – http://wp.me/p15bwQ-36