LTE Connect Cars – the new social medium
---
 Like most guys I love my car (after my gadgets & my Triumph) and like most of you I drool at the prospect of getting a car that will talk to me and connect all the pieces together. As a child, the first car that caught my imagination was Herbie (the wonderful little Bug), and its adventures. I make it a point annually to take my son to local car shows so that when he grows up he learns to appreciate the fact that fast cars are meant to be revered! But the connected car is something very special it connects what I do as a wireless engineer to what I love as a driver! So what is a connected car, will it talk to you? Listen to your commands and maybe drive for you – if you wait for say 10 years Google will make them and make them cheaper for you to actually get one. So my grandchildren will ask me how we ever lived without a self-driven car ever.
LTE Connected Car
A connected car is a one that has software and hardware built into the car that allows you to connect wirelessly and seamlessly to a network and all your devices like a Smartphone, tablet or even a computer. It all started with a simple question. What happens if you connect a car to an ultra high-speed mobile network? Several innovative companies in very different industries were asking this same question. And when the ng Connect Program brought them together, the LTE Connected Car Service Concept was born.
A LTE Connected Car is a concept vehicle, representing a potential next-generation connected device. With the deployment of ultra broadband networks, the automobile will have the potential to be a truly integrated device and become the "fourth screen" in addition to the TV, computer, and mobile phone – the car is poised to become the next place users will be able to access all the content needed for work and recreation. Compelling applications in entertainment, infotainment, location-based services, safety and security, vehicle telemetry, mapping and direction services are delivered through four touchscreens in the car. The architecture has the potential to put as much of the intelligence and computing capability in the network, freeing up resources in the vehicle and driving out many cost elements while increasing user experience and overall usefulness of the in-vehicle applications.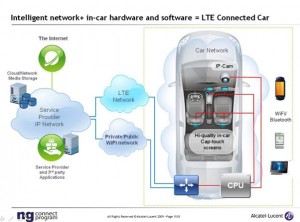 Firms collaborating on the LTE Connected Car, in addition to Alcatel-Lucent and QNX Software Systems, are Atlantic Records, Toyota Motor Sales USA, Inc., chumby, and Kabillion. Applications and content include:
Video on demand – an endless catalog of video content, including movies, recorded TV programs and user-generated content. New content can be rented or purchased in-car for media playback there or paused and finished at home.
Gaming – multi-player games played within the vehicle, in other cars or with players anywhere in the world.
Audio Library –an endless music catalog is accessible from the cloud.
Home control – direct connection from the concept car to home automation and security systems to manage climate control systems, lighting, etc.  Or monitor home or business IP security cameras with streaming video feeds.
Enhanced communications services – calls and messaging services with a hands-free experience and access to social networks available to anyone in the car.
eCommerce – Web browsing and access to one of the concept's many applications to buy right from the car.
Wi-Fi hotspot –in-car Wi-Fi network for full utilization of all Wi-Fi enabled in-car devices and connectivity to the cloud via LTE.
Advanced Navigation – the convenience of immediate, real-time GPS updates with point-of-interest overlay and integrated location-based services.
Enhanced safety, convenience and security – always-on LTE connectivity for real-time traffic, weather and road condition alerts to help improve driver safety in addition to the convenience of proactive vehicle health monitoring including maintenance scheduling, security monitoring and theft protection.
Road and vehicle monitoring – The concept vehicle becomes the sensor; a single platform for the collection and interactivity of vehicle status, location and road conditions that can be shared with other drivers.
Why LTE?
Alcatel-Lucent has created the LTE Connected Concept via its ng Connect Program to demonstrate some of the possibilities for in-vehicle content consumption. The car will be capable of connecting to LTE (Long Term Evolution) data network and stream various different types of content to its built-in entertainment systems. This connectivity can turn any car into a rolling smartphone of sorts. Anything you could access with your mobile device could also be accessed through the vehicle itself.
As we continue to evolve the way we use the web, our relationships with our devices change too. Although the telephone, in its original form, could be considered the very first implementation of a social network, it has turned into something completely different and powerful. Our cars may soon head in this direction, becoming a social networking platform of their own.
A combination of web-connected infotainment systems integrated with navigation and augmented reality software that allows the vehicles occupants to interact with their surroundings in a totally new way. Maybe someday you'll have a digital avatar associated with your driver's license or registration.
Ng Connect Program will benefit MNOs:
Drive top line revenue: By increasing use of wireless data services, especially video
Increase competitive advantage: By monetizing 3rd parties and entering the value chain of Over-the-Top (OTT) application providers
Lower OPEX: Through integrated management of all the connected user's devices and applications 
Reduce churn: By meeting all the customers' needs for communications and entertainment services
Leverage assets across networks: With common enablers, federated control and interoperability.
Create new business models: Enabling a shift from terminal/service subscriptions to user subscriptions, for any terminals and any services, and generating new incremental revenues (i.e., advertising, wholesale, CDN, revenue-shared hosting)
Accelerate time to market: By streamlining development and deployment of complex end-to-end solutions from multiple suppliers
Speed resolution of standards and regulatory issues: The consortium/ecosystem approach encourages cooperation and a united voice
Where we stand with different Car Vendors?
Audi Connect: Audi recently partnered with Alcatel-Lucent to show off an LTE version of their infotainment system. Audi's production Connect system is capable of 7.2-mbps in-vehicle speeds, and 2012 models with Connect are considered the first production Web-connected vehicles. Through a partnership with T-Mobile, this SIM-card-activated service-plan system features navigation and weather/news/gas-price travel services that stay up-to-date with a built-in cellular data connection and its integrated Wi-Fi can connect up to eight devices.  
BMW Assist: Similar to GM's OnStar or Mercedes-Benz mbrace services as they both use the cellular network and Global Positioning telemetry to locate or guide the vehicle. BMW Assist can provide turn-by-turn directions, remote unlocking, vehicle diagnostics, airbag deployment notification, theft recovery and towing or flat tire repair. The service is included free in most new BMWs. After expiration, it can be purchased at a yearly rate.
Cadillac's CUE System: The Cadillac User experience is a combined infotainment, navigation, and communication system that's easy to use. It enables users to connect up to ten Bluetooth mobile devices–its Bluetooth Audio Streaming AVRCP 1.4 supports wireless browsing of media players–and it features two USB ports and an SD Card slot. CUE will debut in 2012 in the Cadillac XTS and ATS luxury sedans and SRX luxury crossover.
Ford Sync: Ford first announced SYNC in January 2007 at the Detroit International Auto Show. Ford first offered SYNC for sale in 2007 in twelve 2008 model year Ford group vehicles in North America. SYNC is currently offered in North America on 14 Ford vehicle models, 5 Lincoln vehicle models and on the Mercury Milan. The high-end Sync with MyFord Touch package can use a USB modem or a smartphone as an in-vehicle Wi-Fi hotspot.
Kia's UVO System: Kia's voice-activated UVO system, like Ford's Sync, is the result of a partnership with Microsoft. It features Bluetooth smartphone connections, a color touchscreen, an integrated rearview camera, and a 700MB in-dash music hard drive.  
Mercedes-Benz mbrace: Remotely access services such as Concierge, Remote Lock and Unlock, Send2Benz, Vehicle Finder using the mbrace Mobile Application on iPhone and Android, to connect with your Mercedes-Benz.
Automotive telematics really got going with GM's pioneering OnStar in 1996, which included an onboard GPS with 3G cellular connection. MyFord Touch enabled drivers to seamlessly integrate nearly all mobile phones and digital media players into their cars with voice commands, and touch-screen inputs enabled by Ford Sync functionality. Others such as Mercedes-Benz mbrace and BMW Assist have run on 2G and 3G connections.
OnStar: Uses CDMA mobile phone voice and data communication, primarily from Verizon Wireless in the United States and Bell Mobility in Canada. Drivers and passengers can use its audio interface to contact OnStar representatives for emergency services, vehicle diagnostics and directions. A new aftermarket interior rear-view mirror with a built-in OnStar module, branded as OnStar FMV, became available to the public on July 24, 2011. It provides some of the features an OEM system has, such as Automatic Crash Response, Stolen Vehicle Tracking, Turn-by-Turn Navigation, and Roadside Assistance.
Toyota Safety Connect: A subscription-based telematics system introduced by Toyota in 2009. The system provides communications, roadside assistance, car safety, remote diagnostics, and other services. Unlike the earlier Lexus Link service offered on Lexus models, the Safety Connect system is proprietary and not licensed from GM's OnStar service.