My Touch 4G – A users review
---
Well I have never done a review on my blog yet, but my recent travels and a positive experience has made me a happy camper  ! I had recently switched providers and had gone from an Iphone to a My Touch 4G after reading a lot of reviews from CNET, Endgadget, etc. Comparing tech specs are good, but how many times does a common user use all the features from the phone ? So I was convinced that HSPA+ is better than no-LTE available today! I am not really somebody who likes to have the flashiest device around, but would not mind if I have one, so for me it was a downgrade from the Iphone to a Mytouch by 'cool' standards.
I was excited to get back to an Android Smartphone as it means there are more free apps on the Marketplace, plus I can tinker around with the OS if I want to do some customization.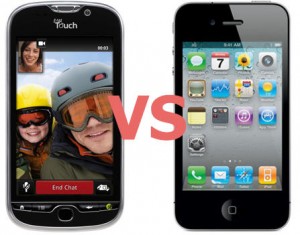 iPhone 4
The iPhone 4 juggernaut continues where the iPhone 3 let go. This device though not capable of  LTE or WiMAX packs features that makes other handset manufacturers squirm. One of the most appealing features of the iPhone 4 is FaceTime. Leave it to the Apple developers to be the first company to offer video calls right from the iPhone 4 handset, albeit over Wi-Fi. The device has a camera on the front of the phone as well as the back that makes video calling possible. An iPhone 4 owner can have FaceTime conversations with any other iPhone 4 owner, anywhere in the world. With one of the highest resolution screens available on a mobile device, the iPhone 4 brings sharper images and text views to the screen. Some of the other specs:
-Retina display
-3.5-inch (diagonal) Widescreen Multi-Touch Display
-960-by-640-pixel resolution at 326 ppi
-800:1 Contrast Ratio (typical)
-500 cd/m2 Max Brightness (typical)
-Fingerprint-resistant Oleophobic Coating on Front and Back
-Support for Display of Multiple Languages and Characters Simultaneously
MyTouch 4G
HTC MyTouch 4G was a much anticipated device that is out to compete with iPhone 4. One feature that is evident of HTC's focus on out-maneuvering Apple, is the MyTouch 4G's Video Chat. With Video Chat, owners of this device are able to chat with family and friends with Wi-Fi or without. The device operates on what T-Mobile's HSPA+ network.
Just as iPhone 4 boasts significant improvements over the previous device, the same can be said of the MyTouch 4G. This device operates on the Android operating system that continues to inhale rave reviews from tech savvy websites and grows in popularity. Another notable feature of the MyTouch 4G, is the Genius button that allows users to use voice command to make phone calls, reply to text messages, and access Google Maps. Below is a short list of other specifications:
-3.8 inch TFT Widescreen Display (800×480 pixels)
-5 Megapixel, LED Flash, Auto Focus, Face Finder, Digital Zoom
-HSPA+ (14.4 Mbps Download, 5.76 Mbps upload)
-8 GB SD Card – Expandable to 32 GB
-Bluetooth 2.1 + EDR
Though this may sound like an apples to oranges comparision, each device has it own advantages and dis-advantages. The user experience of an apple product can never be compared to an Andorid/HTC device but enither can the 'geekish' features of the My touch device compared to an iOS device.
Features that I like dthe most are but two – Wi-Fi hotspot & Wi-Fi calling, things that a non-traveling person would not appreciate unless they are in an area of either poor coverage or no Wi-Fi ! I had a chance to review the Android based UMA calling from Kineto here. It works very well even though the you end up using your minutes from the plan, Operators shopuld make it free !
Making your MyTouch into a Wi-Fi hotspot is one feature that I have used in my travels recently and am happy with it, awesome speeds on your laptop all the way!
And just for giggles, here is the link for the CNET review for MyTouch 4G.