Recession Impact on Wireless Ecosystem
---
With the release of the FCC report last month on the outlook for wireless for the next year, the picture doesn't seem to be as dismal as so many other sectors like Housing, Banking etc. But the last three years have made an impact that will be here to stay and has shaped the way people spend and MNOs spend their budgets. As an engineer who has worked at three levels – Corporate, Regional and Markets I understand the decisions that are made solely based on economic merits that impact the network and the customers. Understanding the economics is harder for me as an engineer as technological advantages and not short-term cash flow savings make sense in a longer run. But economics play a bigger role than any engineering marvel as most MNOs are for-profit organizations and run solely based on ARPU, Churn and EBIDTA (Interest before Interest, Taxes, Depreciation and Amortization). The current stagflation and recession has taken a toll on the mindset of the customer and their spending habits which is a strong indicator for the value proposition that MNOs bring along. FCC for the first time in 2008, had observed that wireless voice usage per subscriber declined for in 11 years. At the same time, use of text messaging and other wireless data services increased over the previous year. The decline in voice minutes-of-use, coupled with the increase in data use, suggests that although only about 40 percent of consumers currently use data services, these consumers may be substituting data services, such as text messaging, for traditional voice services. Changing behavior by customers as well as trimming their cellular spending by attempting to be smarter in multiple ways is shaping the way MNOs win or lose in the market place. The biggest impact for any MNO is net-adds and the performance of an operator is judged by it!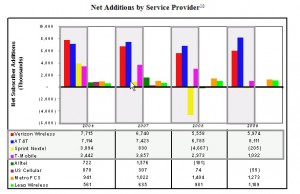 Source: FCC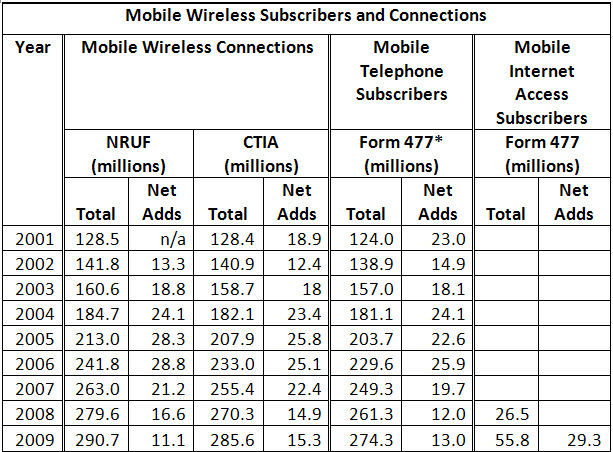 Spending Habits Change
The commitment to spending reductions has been dramatic during this recession. Though wireless is one of the less impacted categories – data suggests 2% decline over the last 6 months and 2% additional in next 12-24 months. Shoppers made marked strides in becoming more efficient and effective shoppers during this last holiday season. More importantly they don't intend to return to their former shopping ways and feel very capable of finding or negotiating deals and should not expect to "have things return to normal." There has been a new normal that has been established that will likely change the consumerism rein of the last two decades to come. The shift has already occurred even if marketers and researchers have not fully labeled it Shoppers (particularly women) are finding great value in their resourcefulness in navigating these uncertain times. And also finding they can feel pretty happy with a little bit less even though they are aware they can trim their spending further if needed.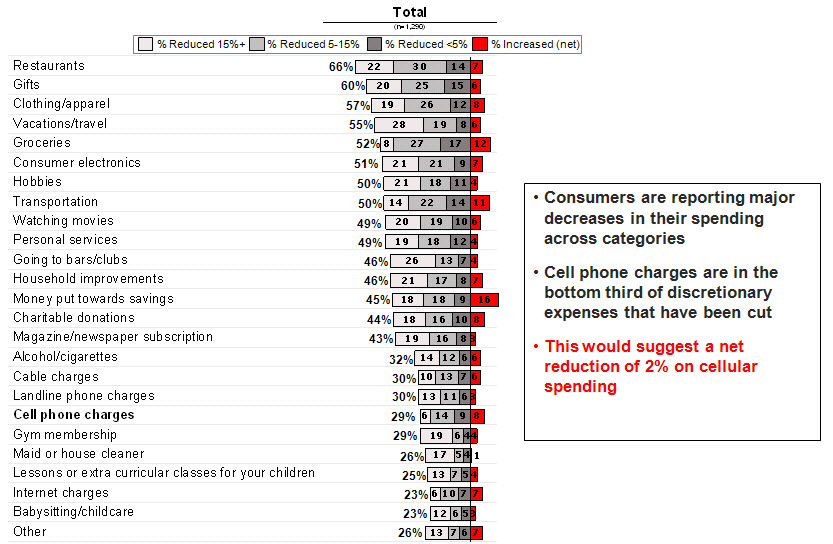 Shoppers encountered unprecedented sales over the last holiday season and took advantage of them by potentially valuable is the willingness to sign up for mailing lists to find more deals suggesting database marketing opportunities. Also customers are more difficult to motivate loyalty, particularly as shoppers are getting smarter about saving money. Most consumers have adapted new strategies to buying and many consumers are cutting back quantity but maintaining quality versus cutting quality in order to maintain quantity.
Shoppers view this as a long-term adaptation – they have gotten smarter and meaningfully learned their dollars are more powerful than manufacturer supply.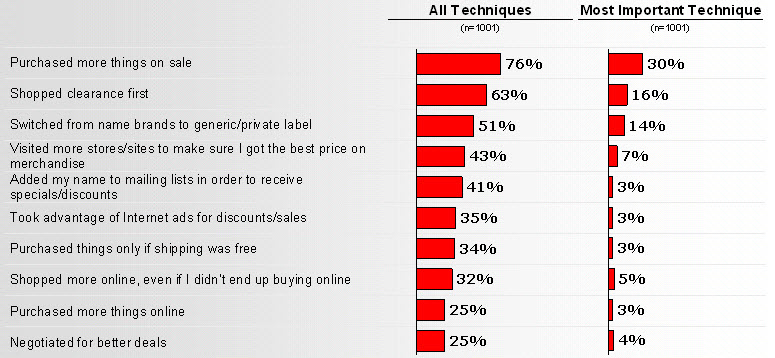 Impact on Wireless Industry
The impact of spending in the wireless industry for technology refresh has been better than most IT investments over the last couple of years. LTE has come out as the winner in the technology standards game for providing wireless broadband services but MNOs have not been aggressive in their network rollouts due to high capital (CAPEX) investments upfront, and some have instead looked to extend their current 3G footprint with HSPA+ expansions eg. ATT&T and T-Mobile.
Why should the MNOs upgrade to 4G?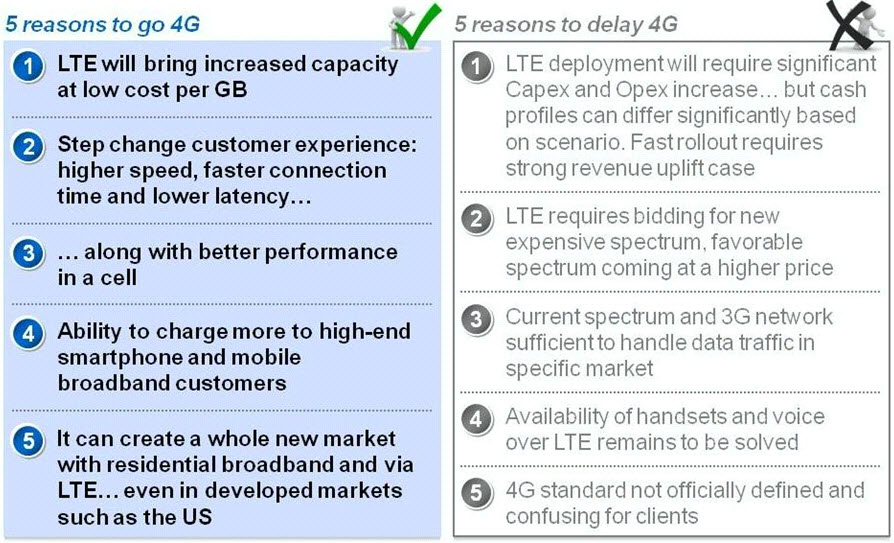 Also LTE will drive radio, and in most cases, base station and gateway switch upgrades. Ericsson, Nokia Siemens Networks, Alcatel Lucent, and Huawei to be the largest beneficiaries of these upgrades and Motorola will have only a marginal share of LTE spending as well as some WiMAX revenue. Component manufacturers such as Commscope should benefit from equipment and cabling upgrades, while wireless tower operators will benefit as most carriers will need to add to existing network infrastructure for LTE. IP core and transport companies such as Cisco, Juniper, Ciena, Dragonwave, Redline and others should benefit as companies move to a flatter IP architecture and need high-bandwidth backhaul for their traffic.
Qualcomm receives current royalty rates on dual-mode 3G/LTE devices, but it may get a somewhat lower rate on single-mode LTE devices like M2M modules (near term) or handsets (long term). Planning for LTE and 3G networks is driving upgrades to wireless backhaul networks by companies that include AT&T and Verizon, with spending distributed to multiple vendors that include Alcatel-Lucent, Ericsson, Juniper, Cisco, Ciena, Dragonwave and others. LTE will drive backhaul capacity of 150Mbps or more per tower. While Microwave technology can be used at the access and aggregation level of wireless networks, fiber based Ethernet backhaul is the only realistic technology with the scale and cost structure to effectively meet the demands of a backhaul network that could very easily scale above an aggregate 10+Gbps in highly urban areas. Many of the components and antenna manufacturers will benefit because new technologies and new spectrum bands may cause many carriers to upgrade antennas arrays. Higher capacity data transmissions will likely require larger grade cabling or fiber optics between antennas, radio heads and base station equipment and these upgrades as positive for both component manufacturers and tower companies.
Cisco has forecast an unexpectedly growth in data traffic and has observed an accelerated adoption of smartphones by mobile phone subscribers, in combination with the much higher usage profile of smartphones relative to basic handsets. Last year the smartphone installed base has increased by 22 percent in 2010, but Informa Telecoms and Media data indicates that the number of smartphones in use grew by 32 percent during the year.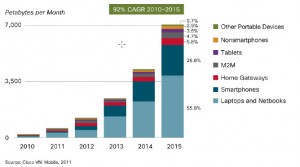 In addition to the increase in smartphone adoption, there was a sharp increase in those smartphones that have the highest usage profile: iPhones and Android phones. The number of iPhones and Android devices in use grew 72 percent in 2010, bringing the combined iOS and Android share of smartphones to 23 percent, up from 11 percent in 2009.
Operators such as Vodafone have reiterated that smartphone users generate 10 to 20 times the traffic of their non smartphone counterparts. Operators have also reported that iPhones generate 5 to 10 times the traffic of the average smartphone, and according to a recent analysis of usage data conducted by Cisco, Android phones are catching up to iPhones in usage volume.
In addition to the evolving handset mix, other high-usage devices increased their presence on the mobile network. The number of mobile-connected laptops grew by 63 percent in 2010. A large percentage of mobile-connected laptop users consider mobile broadband their primary means of accessing the Internet, and in many regions there is a pronounced mobile broadband substitution effect. A recent survey by Ofcom indicates that the percentage of Internet users who have substituted mobile broadband for fixed broadband is 6 percent in the United Kingdom, 11 percent in Germany, and 13 percent in Italy. As expected, substitution users generate much more traffic than users who use mobile broadband as a complement to fixed networking.
Tablets made their first appearance on mobile networks in 2010, bringing a data usage profile that is 5 times higher than that of a smartphone. The graphic below summarizes the number of each type of device and the traffic multipliers associated with them. The introduction of laptops, tablets, and high-end handsets onto mobile networks is a major generator of traffic, because these devices offer the consumer content and applications not supported by the previous generation of mobile devices. A single laptop can generate as much traffic as 515 basic-feature phones, and a smartphone creates as much traffic as 24 basic-feature phones.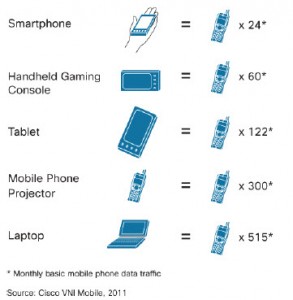 Surprisingly the recession has not had an impact on the cellular usage by customers and wireless prices for data and voice continue to trend down. Currently, more than 140 wireless licensees compete to offer service to end users in the U.S. The latest FCC analysis concludes that more than 96 percent of Americans can choose from among three or more wireless providers. Consumers get more value for their wireless dollars – including both voice minutes, as well as non-voice applications such as text messaging, music, webaccess, games, and other downloads, while paying under $50 a month. From December 2008 to December 2009, the average local monthly bill (excluding toll and roaming revenues) fell from $50.07 a month to $48.16 a month.
Here is a result from a study done recently on the customer perception of wireless services.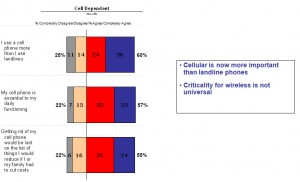 50 wireless facts by CTIA – http://www.ctia.org/media/industry_info/index.cfm/AID/10377